If I click baited you into reading this with my cover art, I assume you are an educator looking to "spruce" up your presentation skills; or maybe you're a newbie looking to enter the world of teaching and education. I, too, was in the same spot, and while I think I still am a newbie, I have found many ways to improve my lectures and presentations over the years. I have been continuously trying to find ways to engage an audience, capture further and maintain their attention, and use visually pleasing slides, all while attempting to keep the information I relay easy to retain. That's where Prolific: The Speakers Atlas comes in.
Prolific: The Speakers Atlas is an online course directed at educators (or even soon to be educators) with intentions of elevating their lecture game and improving their presentations overall. Sam Ireland and Tyler Chrisitifulli are your instructors during this approximately 5-week long course, and you will find that they are handing out their "secrets" to education.
Through emulation and a short stent through their course, I began revamping some of my content.
Lookie here:
(Slides from a capnography course I created; Eric Bauer's "3 P's of EtCO2)
Not only did I improve the appearance of the slides, but through some constructive criticism from Sam and Tyler, I have learned to further appeal to the audience by using animations timed with my lecture to upgrade the entertainment value of my presentations.
As I nerd out on an almost daily basis -- and annoy the hell out of my wife -- over EMS related jumbo, I have co-workers and friends asking many questions about how I put some of my content together. I tell them about the Prolific course, of course. But I realize that it doesn't really answer the question. So here, I attempt to answer the questions I get the most often regarding the Prolific: The Speakers Atlas course.
How do they do it?
As I mentioned… Through their course, Prolific: The Speakers Atlas. During that 5-weeks (5 online modules, at your own pace), Sam and Tyler take you through all you need to know to improve your presentations and lectures. This includes:
Content Development – This is the first module, where the course begins. The module includes material on content framework and storyboarding. You'll learn to brainstorm ideas and allow natural progression for those ideas. You then start learning to develop a presentation and how to cater that presentation to specific time frames or different audience types. Sam and Tyler then teach you to build from your thoughts and organize the mess of ideas in your head.
Graphic Design – In the second module, you get into my favorite part of the course: graphic design. You've watched many of the FOAMfrat presentations, I imagine. If you're anything like me, you've asked yourself, "how do they do that?" Whether you use PowerPoint or Keynote, they got you covered.
Transitions and Builds – Imagining how your talk will go and how it actually goes when you are in front of an audience is often very different. Module three will dive into the speaker's mind and cover the avoidance of the audience divide through the clever use of transitions and builds within your presentation. You'll learn to avoid looking and feeling awkward in front of an audience.
Speaking and Drawing – Bueller? Bueller? Bueller? Module four concentrates on speech variability and avoiding that monotone voice everyone hates from presenters. You'll also dive into free drawing, memorization, and illustrations often seen on what many call, "whiteboard exercises."
Showing Up and Leaving Them Wanting More – How do we show up prepared? What awkward behaviors should we avoid? How do I keep the audience wanting more without looking like a douche? Module five covers these questions, without making you look… like a douche. Know your call to action and give the audience something to do when they leave.
Is the course stressful, is it graded?
Yes, to both, but in a good way! You're getting two of the best speakers and educators in our industry giving you constructive criticism. Can that be stressful? Of course, but you have an opportunity only providers who take the course get; turn that stress into excitement.
You'll have assignments, Q&A, and even a capstone project to show off all of the information you learned throughout the course. You'll be graded, but you won't fail. If you're anything like me, you'll be anxiously waiting for them to grade and critique your work.
While I thought this cover art was a masterpiece, following some criticism from Sam and Tyler, I learned quickly of some very common mistakes that educators make while creating their work. I'm gonna leave you wondering with this one. Take the course then come back and judge my work.
Did you learn anything cool?
Hell yeah! I've used my obsession with memes and GIFs and found a way to include them in my presentations... THANKS, SAM!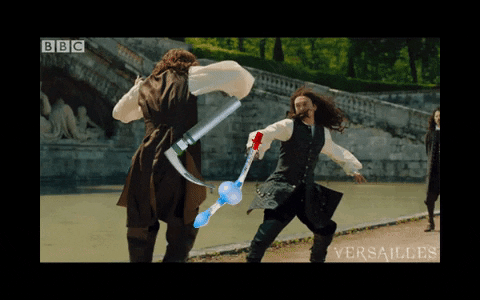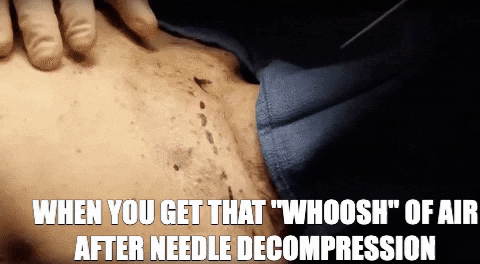 (Yes, they taught me to create these!)
Now, I could go on and on about the course… But I don't want to bore you with a blog that's too long (something they teach within the course). To summarize, take the course and let Sam and Tyler teach you some pretty rad things and improve your presentations/lectures. You'll also gain access to an exclusive group on FB full of other EMS educators with similar passions.
Take The Course Now!
- Jared Patterson, CCP-C, One Rad Dude
REFERENCES:
Patterson, Jared M. (1989). Pretending to have an actual reference for this blog. Omaha: Nebraska. Patterson and Friends, LLC (Not really an LLC). https://twitter.com/OneRadMedic. #medicsagainst500and12. PROLIFIC2020 FOR 50% off.